Ariarne Titmus vs. Katie Ledecky
The first time I saw Katie Ledecky swim was live on pool deck at the Tom Dolan Invite over a decade ago. She was swimming the 1650 in one of the slow heats – you know the heats in the middle of the day nobody attends. I turned to a fellow coach and said, "Are you watching this kid? This girl is the next Janet Evans!"
Five Olympic gold medals and 15 World Championship titles later, she morphed into the most dominant distance swimmer of all time. Her stranglehold on the 800 and 1500 is off the charts. So much so, that even when she adds nearly 10 seconds to her best time, she can still win.
The world is anxiously awaiting Australia's Ariarne Titmus to face off with the American GOAT, Katie Ledecky. They are going toe-to-toe in the 200, 400, and 800 Freestyles this week in Tokyo. Here's a little bit about their history...
In 2018, Ledecky just edged a hard charging Titmus in the 400 Free at Pan Pacific Championships. Later that year, Titmus went on to break the World Record in the 400 SCM version of the race in Hangzhou at SC World Championships. 
Two other youngsters, Taylor Ruck (CAN) and Rikako Ikee (JPN), beat her in the 200 Free at 2018 Pan Pacs. If Ariarne Titmus would have swum this event, Ledecky might have missed the podium. 
Taylor Ruck has been sick again, opting to not even swim the 100 Free at Canadian trials. Like a kid in daycare, she seems to always be ill. Rikako spent a year fighting for her life after being diagnosed with leukemia in 2019. In an incredible comeback, she will be competing in Tokyo but only as part of Japan's relays.
The last time Titmus and Ledecky raced each other long course was in Gwangju. Titmus beat Ledecky in the 400 at 2019 World Championships blasting by her over the final 50 meters. Though, Ledecky was apparently not feeling well throughout this meet.
They did also compete in the short pool, side by side, during Season 1 of the International Swimming League at the stop in Indianapolis. Ledecky put a beat down on the young Australian popping off a 3:54.0 just missing Titmus' World Record of 3:53.9 that she went in Hangzhou the previous year. Ledecky looked fresh to death right out the gate. Titmus, on the other hand, looked like someone deep in training.
At some point in everyone's swimming career, you are bound to never beat your PB's ever again. Everyone except Nicolas Santos and Dara Torres -- who both swim the 50.
Distance swimming, in particular, is a young person's sport. Katie Grimes (15), Bella Sims (16), and Erica Sullivan (20) are the other 3 female distance swimmers competing in Tokyo. Meme credit goes to Coach John Dussliere.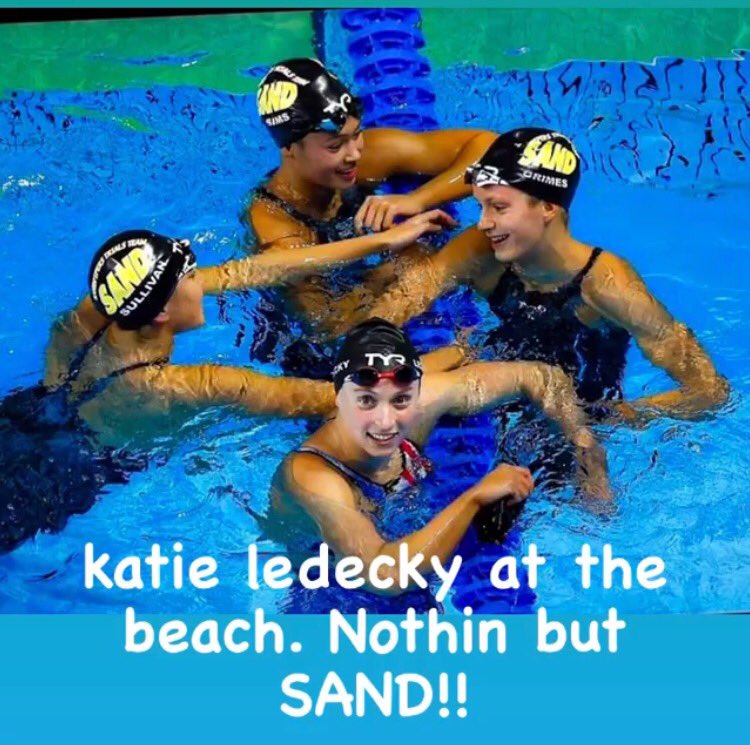 And while Ledecky is just 24 years old, that's 4 years older than Titmus. The Titmus of today is the Ledecky of 2016. That is how evolution works – it is just science.
Titmus posted PB's last month at Australian Olympic Trials, nearly breaking the WR's in both the 200 and 400.
Ledecky has not posted a PB in the 200, 400, or 800 in nearly 5 years.
It also does not hurt that Arne has the charismatic, intense Dean Boxall in her corner. We have heard time and time again on "Inside with Brett Hawke" the importance of believing in one's coach. Titmus' confidence must be at all-time highs, while Ledecky was looking perplexed after she could not break 4 minutes at American trials.
A deep, insatiable hunger  to win is the other thing that we constantly hear on the podcast. For example, here is Jon Sieben's recollection of meeting Laurie Lawrence for the first time ever...


Titmus is hungry and wants those world records. After just missing Ledecky's 400 Free WR at Aussie OT's, she abruptly yelled, "F--K!"
"I'm definitely still saying I'm the hunter." - Titmus
"I can't control if someone has some really fast swims and beats me and things like that." – Ledecky
Is Katie Ledecky as hungry as Titmus? Is she scared of Ariarne Titmus?
Predictions
I expect Arne Titmus to break the world records in the 200 and 400 Freestyles on her way to becoming Olympic Champion in both. Ledecky goes 1:54 mid and 3:59 low.
The race of the meet might just be the 800. Many people will not be surprised if Ledecky loses the 200 and 400 to Titmus. But for her to lose the 800? IMPOSSIBLE!
If Ledecky can't flirt with dipping back under 8:10, then that would leave the door wide open for what I'm calling Titmus' Trifecta. She must not let Ledecky get too far out in front at the beginning of the race. If she can stick on her hip, she will be in prime position for the final push home. Just like we saw in the 400 back in 2019. If Titmus can go 3:56 in the 400, she can surely go much faster than the 8:17 she went at Trials. 
For America's sake, I hope I am wrong. I hope Ledecky touches Titmus out by a hundredth for Gold in the most epic battle over 400 meters you've ever witnessed in your life. I hope Ledecky goes 8:05 and tons of memes with little arrows showing which direction people are swimming pop up all over the internet. 
Time will tell.